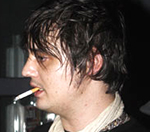 Pete Doherty
was arrested on Saturday following an incident outside a bar in Berlin, it's been reported.
The Babyshambles star was apparently taken into custody after throwing a pint glass through the back window of a car.
The incident is understood to have occurred shortly before 7am outside bar Trinkteufel.
A bartender is quoted as telling German newspaper Bild: "I almost threw them out too.
"He was drinking shots and constantly asking where to get cocaine."
According to IOL, Doherty had earlier been ejected from another bar.
The singer was apparently held for three hours by German police before he was booked for property damage and released.
The reported incident comes just days after Doherty caused controversy at a gig in Germany by singing the opening lines of the Nazi national anthem.
The star later apologised for the incident.
(by Jason Gregory)