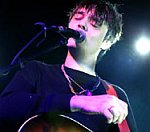 Pete Doherty
played to a packed crowd at the Glastonbury Festival in Somerset today (June 27).
The singer, who wasn't officially on the festival bill, played a set comprised of songs by both The Libertines and Babyshambles.
Among favourites with the crowd were 'Don't Look Back Into The Sun', 'Albion' and 'For Lovers'.
Doherty ended his performance with a rendition of The Libertines' 'Time For Heroes'.
It was the first time the singer had performed in the UK since his recent arrest in Gloucester.
(by Jason Gregory / Thomas Ward)