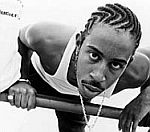 US rapper
Ludacris
has unveiled a new song in which he endorses the democratic presidential candidate Barack Obama.
The track, entitled 'Politics (Obama Is Here)', sees the rapper urge people to get out and vote to "make the White House black."
In the song, which features the beats from Young Buck's 'Get Buck', he also raps: "We're about to make history, the first black president, it's destined and it's meant to be."
Mr Obama, who will face Republican John McCain in the presidential race this autumn, met Ludacris two years ago to discuss, what the rapper called, "empowering the youth."
At the time, Ludacris said the meeting was like spending time with a relative.
The rapper is one of a number of musicians who have endorsed Mr Obama's campaign to become the first Black president.
Before he embarked on a tour of Europe last week, Mr Obama also stressed the importance of hip-hop in America, saying that rappers have the opportunity "to deliver a message of extraordinary power that gets people thinking."
(by Jason Gregory)