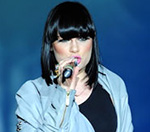 Jessie J
has revealed that she wants to get
Britney Spears
to sing about sex on her new album.
The singer, who recently won the Critics' Choice prize at this year's Brit Awards, is working with Britney Spears on her anticipated comeback album.
"I am going in the studio tomorrow to try and write a song for Britney," she told Rap-Up.
"I was sent a backing track for her album and they specifically asked me to write on it, so I'm going to go in the studio on my night off."
She added: "I'm gonna put a little Jessie J spin on it and get Britney singing about grabbing her crotch. You never know."
Britney Spears has revealed that she intends to release her new album in March 2011.
(by Holly Frith)