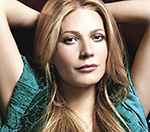 Gwyneth Paltrow
has opened up about her marriage with
Coldplay
frontman Chris Martin.
The couple, who tied the knot in 2003, have always kept their marriage under wraps from the UK's press.
"Marriage is hard. Chris and I have had our ups and downs, big time. Marriage is way more complicated than just who gets to control the remote," Paltrow told The Sun.
She added: "But hopefully we keep heading in the same direction and getting through the obstacles."
Meanwhile, Cee Lo Green has confirmed that he and Gwyneth Paltrow have recorded a new version of his hit, 'F*ck You'.
(by Holly Frith)




Comments:

ythtmp
[23 January 2013, 16:39:01]
Ol3rkn , [url=http://uhhwlfhvrkcu.com/]uhhwlfhvrkcu[/url], [link=http://atuexyhjjmbm.com/]atuexyhjjmbm[/link], http://giierztmttiq.com/

The way I see it is my breasts are a part of my body that's going to start lonkoig as old as the rest of my body as I age. I'm 29 right now, so why go through the surgery and money to get it done. I don't know how long breasts lifts technically last but I know that breast implants or so I've heard need daily rubbing and they usually don't generally last longer than 10 years without more money to upkeep the look. So if I actually got it done just to give every guy that looked at me a firm round bossum to look at or even my husband, I'd consider myself a stupid person. But on another note, if anything is physically uncomfortable such as sagging breasts down to my belly button, if you can afford it I wouldn't think you're stupid. But I just hate it that I and others actually do fall prey to the idea that fuller rounder breasts would be a thrill to have. I've always had 38/40 b breasts, and 38/40 c breasts when breastfeeding, and back to 38/40 b breasts after breastfeeding 1-2 years per my 2 younger children. So I guess I don't have the uninflated look at all. If I pinch my breasts my skin prunes but not excessively and only if I pinch my skin so I guess I don't have much to complain about but I can't lie. I'm probably like any other impressionable girl was at one time. At 18, I wanted bigger breasts because I thought my hips were too big for my little b cup breasts, and yes my hips are big but so what? I hate all this proportionate crap that guys and girls spew and I used to spew it too. If Gwenyth Paltrow gets a correction done it's about her wanting to look and feel sexy to her husband. I get that. If she feels like it's a good decision for her body I'm not going to hate her, but secretly I wish all women on our earth would have the national geographic breasts instead of the fake ones. I really wish the breast wasn't so sexualized. Why can't it just be about the vagina, where the freaking penis goes into? Like that isn't good enough. God, guys and men you really want your wives and gfs to cut themselves for a piece of gel or saline bag put under the skin. When I talk about it raw like that I just really DONT get IT! I like sex and I like my breasts touched but why oh why does it have to come to this. SURGERY? ARRGH!!!