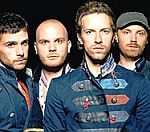 Coldplay
treated fans to an early Christmas present as they played one of their most intimate shows in years in Newcastle last night (December 21).
The secret gig, which took place at The Journal Tyne Theatre, was one of two special performances by the band to help raise money for the homeless charity, Crisis.
Just over 1,000 people packed out the intimate venue, with some fans paying up to £1,000 to see one of Coldplay's only UK dates this year.
Geordie home talents Ant and Dec opened the show with an amazing cheer from the audience.
And singer Chris Martin referred to the TV presenters former guises on children's show Byker Grove as they arrived on stage.
"If you're just a big PJ and Duncan fan, just have a bit of sympathy," he said. "It's a small venue so we can see all your reactions."
Coldplay opened with 'Yellow', and were met by over whelming applause from the audience. The band played some of their most loved songs including 'Trouble', 'Kingdom Come' and 'Fix You'.
One lucky couple certainly had a night to remember, as Chris Martin invited a young man on stage to propose to his girlfriend.
The band played a packed hour and a half set, joking throughout about the intimate size of the venue. It was clear that Coldplay enjoyed being back in front of such a small audience.
Other highlights included 'God Put A Smile Upon Your Face' and 'Viva La Vida'.
After a huge cheer from the crowd, the band returned to play an encore of 'Politik' and their new Christmas song 'Christmas Lights'.
Support came from The Choir With No Name, who performed some festive favourites, including The Pogues' 'Fairytale Of New York'.
Coldplay's set list was: