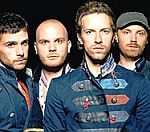 Coldplay
have become the first act to sell more than one million digital albums in America, new figures show.
The group have sold a total 1.358million full-length records in the US, according to Nielsen SoundScan.
The band's fourth album, 'Viva La Vida or Death and All His Friends', has also become the biggest selling digital release in Nielsen's history.
The record was the biggest selling album in 2008, shifting more than 6.6million copies around the world.
Meanwhile, Coldplay have given fans the chance to preview the video to their new single 'Strawberry Swing' ahead of its release next week.
(by Jason Gregory)