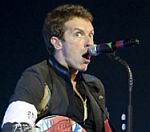 Coldplay
have revealed their plans to give away a live album for free.
Singer Chris Martin says he hopes to repay fans who attend their upcoming summer tour dates by giving them a free gift in return.
He explains: "What we want to do is try to giveaway a live album for free. We're playing a lot of shows in the summer and I think what we would like to do is - bearing in mind the recession we are in - record the live album then give it as a gift.
"We are just trying to work out how to do that. It's obviously a bit tricky in terms of record contracts and things but it would be great. It's a way of saying thank you."
In the interview with The Sun, Martin admitted the idea was inspired by the difficult financial climate: "It's a tough economy and people are paying a lot of money for tickets.
"We are trying to work out a way that, when you hand your ticket in at the door, you get given the recording.
"It would be such a cool thing to do. We just feel really grateful at the moment for all the support we get from our fans."
Coldplay are amongst the bands playing live at The Brit Awards ceremony in Earl's Court tonight. After the ceremony they will head over to The Shepherd's Bush Empire for a War Child show alongside The Killers.
(by Scott Colothan)