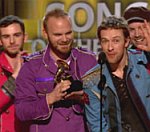 Coldplay
will earn £1.4million to play a gig in the United Arab Emirates according to new reports.
Chris Martin and co have been booked to play in the Middle East for the first time and will follow in the footsteps of Justin Timberlake, Shakira, Elton John and Bon Jovi when they play at the Emirates Palace.
Promoter Elissa Murtaza said: "Coldplay's debut performance in the Middle East is set to attract one of the biggest attendances in the UAE.
"Regional fans of the band have waited a long time for this show and they won't be disappointed."
The venue backs on to a mile long beach and has a capacity of 15,000, tickets are expected to sell out within minutes of them going on sale.
(by Daniel Melia)