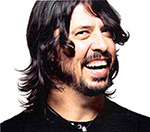 Dave Grohl has revealed that the
Foo Fighters
took a break for their fans sake.
The band, who release new album 'Wasting Light' on April 11, said they needed to take a break so they didn't become over-exposed to fans.
"We'd been working this cycle of an album every two years for the last f*cking 15 years. We were all exhausted of flying around the world playing shows five nights a week. But more than that I started thinking, 'Aren't they f*cking sick of us yet?" Grohl told Q magazine.
He added: "It's been over a decade of the band playing your festivals every summer, on your radio every hour. If I were a fan, I'd get f*cking fed up of us."
Meanwhile, Foo Fighters have been praised for helping the recent flood victims in Australia.
(by Holly Frith)