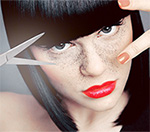 Jessie J
has revealed that she is already working on her next album.
The singer, who released her debut album 'Who You Are' earlier this month, has said she has already has a number of songs written for the follow-up.
"For the next album, I've got three or four songs already written. People say albums should be slices of your life, but to me it should be the whole time," Jessie J told the Daily Star.
She added: "I've had all my life to write this first album, and I don't want to end up having six weeks to write the second."
Meanwhile, Jessie J has been added to the line-up for this year's iTunes festival in London.
(by Holly Frith)