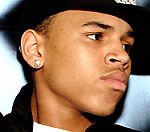 Chris Brown
has spoken for the first time about a naked photo of him which surfaced online earlier this month.
The full-frontal image, taken using a mobile phone, surfaced on the website worldstarhiphop.com.
In an interview on US radio station Power 106, said he had "nothing to say" about the picture, but did clarify it was "definitely" sent to a girl.
Brown was then pressed further about the photo, and revealed that it was an "out-the-shower shot".
Asked by a female presenter whether he was having "happy thoughts" at the time, Brown replied: "No. I was alone, but I wasn't excited. I wasn't hot."
Brown is not the first music star to be caught up in a nude scandal.
Images of his former girlfriend Rihanna have also surfaced online, while Paramore's Hayley Williams and Kanye West both suffered similar experiences.
Chris Brown talks about naked photo:
(by Jason Gregory)