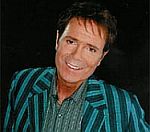 Cliff Richard
has said that he would like to collaborate with
Lady Gaga
and
Adele
.
The veteran 70-year-old singer said he was a fan of the US singer, but that if they were to record a duet she would not be allowed to "wear any of those hats".
Speaking about Adele and fellow British star Leona Lewis, Richards said: "Adele and Leona Lewis are both incredible, fantastic voices but only time will tell."
In an interview with The Sun newspaper, Richards also revealed that he was working with Motown producer Lamont Dozier on his new album and that fans should expect a new direction.
"Don't be shocked if there is a rap or two on the record," he said. "If we can finish this, I will have died and gone to heaven, it's a dream come true for me."
The record is due to be released later this year.
(by Jason Gregory)