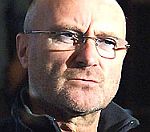 Phil Collins
has confirmed that he has retired from music.
In a statement on his website, the former Genesis star said he was calling it a day to focus on being a "full time father" to his "two young sons".
His announcement follows a number of conflicting reports about his future within the industry.
At the weekend, Collins was quoted as telling FHM that he felt it was a "good time to stop", but his spokesperson later said he had "no intention" of retiring.
On his website, Collins wrote that he was not retiring because of "dodgy reviews or bad treatment in the press".
Nor, he continued, was he stopping because " I don't feel loved" or "I don't fit in". He also conceded that certain "asides" he had said during interviews had made him sound like a "tormented weirdo".
Collins went on to thank fans for all their messages of support, but added: "There's no need for the straitjacket".
Collins released his latest album 'Going Back', which features covers of 60's Motown & Soul classics, last year.
(by Jason Gregory)