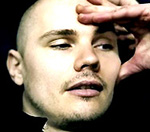 Smashing Pumkins
'
Billy Corgan
has revealed that the band's bass player is one of the girls on the cover of their '
Siamese Dream
' album.
Nicole Fiorentino, who joined the band last year, was around thirteen when she appeared on the band's 1991 album cover.
Corgan tweeted on Friday night (February 18): "Just found out the weirdest news: our bass player Nicole just admitted she is one of the girls on the cover of 'Siamese Dream'."
"Said she didn't want us to know because she thought maybe we wouldn't let her be in the band".
Now it seems that Corgan may have been mistaken over the identity of the young Fiorentino. An assistant to cover photographer Melodie McDaniel has said that he is pretty sure the photo was taken specifically for the cover, and the young girl on the cover would be around seven not thirteen, reports Rolling Stone.
(by Holly Frith)