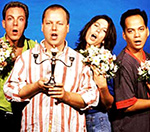 The Pixies
could be set to record a new album, it has been revealed.
The band who reformed in 2004 have been touring their 'Dooloittle' album since the end of 2009.
"We've been talking about this for about three years now, actually. I don't know if it will come to fruition; I'm waiting and waiting to see what will happen," drummer David Lovering told Billboard.
He added: "All I can say is if there is one, it better be good. We'd really have to work at it."
Meanwhile, Pixies frontman Frank Black has admitted that the band now consider money when booking reunion shows.
(by Holly Frith)