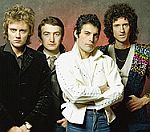 Queen
are set to re-release their first five albums in March.
The band will re-release their first five albums; 'Queen', 'Queen II', 'Sheer Heart Attack', 'A Night At The Opera' and 'A Day At The Races'.
All the albums will be released as a standard CD and include a deluxe 2 disc set which will feature new bonus material.
The re-realise of the albums will coincide with Queen's 40th anniversary in March. Queen have continued to perform despite the death of singer Freddie Mercury in 1991.
Meanwhile, Queen's Brian May has said he is "very excited" about the forthcoming biography film about Freddie Mercury.
(by Holly Frith)