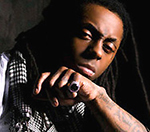 Lil Wayne
has revealed that he read a selection of literacy whilst in prison including The Bible.
The rapper, who was jailed last March for gun possession, has opened up about his experiences in Prison.
Whilst in prison he read biographies of Jimi Hendrix, Jim Morrison, Marvin Gaye, Joan Jett, Vince Lombardi and Anthony Kiedis: "[Kiedis'] Scar Tissue was really good," Lil Wayne told Rolling Stone.
He added: "I also read the Bible for the first time. It was deep! I liked the parts where some character was once this, but he ended up being that. Like he'd be dissing Jesus, and then he ends up being a saint. That was cool."
Meanwhile, Lil Wayne is set to appear on a remix version of a Nicki Minaj track, it has been revealed.
(by Holly Frith)