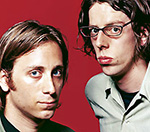 The Black Keys
have cancelled the remaining dates on their tour, due to exhaustion.
The pair, who were set to play to in Australia and New Zealand, announced that these dates have now been cancelled.
The band posted the message on their website: "The Black Keys are sorry to announce the cancellation of the New Zealand and Australian tour including all appearances at the Big Day Out touring festival as well as a portion of the European tour in March."
"An arduous year of touring and promotion has drained the band and necessitated time off. Dan and Patrick wish to thank all of you who have shown such incredible support since the release of Brothers and have helped make the album a success."
The Black Keys and The Drums supported Kings Of Leon at their Hyde Park gig last year.
(by Holly Frith)