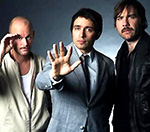 Peter, Bjorn And John
have announced details of their new album, '
Gimme Some
'.
The band's follow-up to 2009's 'Living Thing' will be released on March 28.
Their sixth album was recorded at Tambourine Studios in Malmoe, Sweden, and saw them team up with producer Per Sunding.
Meanwhile, Peter, Bjorn And John are set to play three gigs in London (March 30), Manchester (31) and Glasgow (April 1) in support of their new album.
The tracklisting for 'Gimme Some' is:
Tomorrow Has To Wait

Dig A Little Deeper

Second Chance

Eyes

Breaker, Breaker

May Seem Macabre

(Don't Let Them) Cool Off

Black Book

Down Like Me

Lies

I Know You Don't Love Me
(by Jason Gregory)