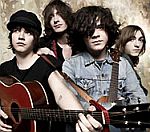 The View
have announced that their new album will now be called '
Bread And Circuses
'.
The record, previously titled 'The Best Last Forever', is due out on March 14.
It will be preceded by the single 'Grace', which is released on March 7, and will come backed with the single 'Clowns'.
The single and album have been produced by Flood.
Meanwhile, The View have announced details of an intimate UK tour, which will begin later this month.
The band will preview songs from their new album, starting at King Tuts in Glasgow on January 25 and 26.
The tracklisting for 'Bread And Circuses' is:
Grace

Underneath The Lights

Tragic Magic

Girl

Life

Friend

Beautiful

Blondie

Sunday

Walls

Happy

The Best Lasts Forever
(by Jason Gregory)