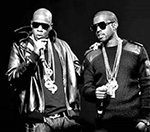 Kanye West
and
Jay-Z
's joint album '
Watch The Throne
' will be released on March 1, according to reports.
Last week, West was filmed at a New Year party claiming that the album would arrive "this week".
But sources close to the rapper and Def Jam told the music blog Fake Sure Drive that March 1 was the album's official release date.
Meanwhile, the album's as-yet-untitled first single will be released on January 11.
Details about 'Watch The Throne' first emerged following recording sessions in London last autumn.
In a message on Twitter, West, who produced Jay-Z's 'The Blueprint', said that their songs were "so modern so hood so club so hip hop".
(by Jason Gregory)