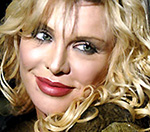 Courtney Love
has become the first celebrity to be sued for her recent Twitter rants.
The Hole singer is being sued by Fashion designer Dawn Simorangkir for posting a number of inappropriate comments over Twitter.
The series of posts include: "She has received a vast amount of money from me over $40,000 dollars and I do not make people famous and get raped too!"
The singer's lawyer said: "We don't believe there's any defamation, and even if there were defamatory statements, there was no damage."
Courtney Love will appear in Court in Los Angeles on January 18.
(by Holly Frith)