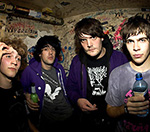 Klaxons
have revealed that they will be giving away an EP of unreleased material as a free download.
The EP, entitled 'Landmarks Of Lunacy', will be given away as a free download from the band's website on Christmas day (December 25).
The band said: "The three nocturnal weeks spent at Black Box studio in 2008 under the loving guidance of James Ford was undeniably the point where the magic was peaking."
"Sometimes the only way to let a story release it's full power and potential is to offer it up to the universe - so here it is – 'Landmarks of Lunacy'."
The tracklisting for 'Landmarks of Lunacy EP' is:
The Pale Blue Dot

Silver Forest

Ivy Leaves

Wildeflowers

Marble Fields
(by Holly Frith)