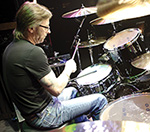 AC/DC
drummer Phil Rudd has been convicted of drugs possession in New Zealand.
Rudd was arrested in October when police discovered 25 drams of marijuana during a search of his boat at the Tauranga Beach Marina, North Island.
The 56-year-old's lawyer asked for his client to be discharged but the magistrate at Tauranga District Court rejected the plea.
Rudd was fined $250 (£121) and $133 (£65) in court costs and was told he was "playing Russian roulette" with the law, reports RockAAA.
The drummer originally joined AC/DC in 1975 but was fired in 1983. He returned to the group in 1993.
(by Jason Gregory)