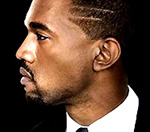 Kanye West
has released 'The Joy', the latest song in his G.O.O.D Friday series.
The track features guests vocals from Jay-Z, Pete Rock, Charlie Wilson, Curtis Mayfield and Kid Cudi.
The rapper posted the song to his Twitter users, but refrained from adding any more details about the track.
His previous G.O.O.D Friday songs have included 'Don't Look Down', 'Take One For The Team', 'Don't Stop', 'Lord Lord Lord', 'Devil In A Dress' and a remix of recent single 'Power', featuring Jay-Z.
Meanwhile, West has completed work on his new album 'My Beautiful Dark Twisted Fantasy', released on November 22.
The rapper is also working on a joint hip-hop album with Jay-Z.
(by Jason Gregory)