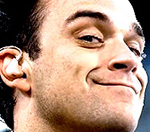 Take That
star
Robbie Williams
has again ruled out the band appearing at next year's Glastonbury festival, calling it "a sh*thole full of d*ckheads".
On Wednesday, bandmate Mark Owen said the group wouldn't perform at the festival as part of their reunion due to the scale of their production.
But during an interview on Liverpool's Radio City station, Williams launched a more stinging attack against the event, reports Click Liverpool.
Asked about the possibility of the group playing Glastonbury, Williams replied: "Absolutely not.
"There's going to be no Glastonbury, not for me. They pay you about five pence to be honest."
Singer Jason Orange then tried to defend the festival's spirituality, but Williams added: "It's a sh*thole full of d*ckheads."
The 2011 Glastonbury festival has already sold out.
(by Jason Gregory)