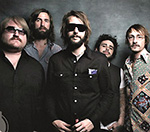 Band Of Horses
and the University of Georgia Redcoat Marching Band have covered
Cee Lo Green
's 'Georgia'.
The cover was inspired by the Gnarls Barkley star's recent reimagination of the fellow Atlanta band's song, 'No One's Gonna Love You'.
Band Of Horses' Ben Bridwell said he was inspired to record the song while on his father's patio watching a football game.
"I knew I wanted to pay homage to my favorite team in song but didn't have any idea how to begin," he said.
"Once I heard Cee-Lo's 'Georgia,' I was immediately smitten and figured that's as good as any tribute to any state I've ever heard. It wasn't until I heard his cover of our song though that it occurred to me: Duh, we should return the favour."
Bridwell added: "Incorporating the Redcoat marching band was just the icing on the cake."
The track is available now from bandofhorses.com/Georgia as a double A-side 7-inch with Cee Lo's rendition of 'No One's Gonna Love You'.
(by Jason Gregory)