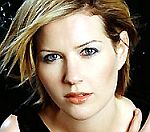 Dido
is being sued by an astronaut who claims she used an image from his 1984 space flight on her most recent album without permission.
The image, which appears on the cover of the singer's 2008 album 'Safe Trip Home', shows former NASA astronaut Bruce McCandless free flying.
In a complaint filed at a federal court in Los Angeles, McCandless said the artwork was an infringement of his persona.
Sony Music Entertainment and Getty Images Inc. are also named as defendants in the lawsuit, reports Bloomberg.
'Safe Trip Home', which was Dido's third album, debuted at number two on the UK album chart. The star is currently working on the follow-up.
(by Jason Gregory)