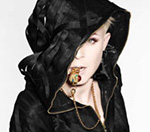 Robyn
has revealed that she his planning a special collaboration with
Deadmau5
at this weekend's MTV Video Music Awards (VMAs) in Los Angeles.
The Swedish singer told Gigwise that the Canadian DJ and producer had remixed her hit 'Dancing On My Own' for the ceremony on Sunday (September 12).
"I've been talking to Deadmau5 on e-mail and he's remixing 'Dancing On My Own', and it sounds really good," she told Gigwise.
"I'm happy to perform there and that people are interested in what I'm doing."
Robyn went on to admit that she was surprised by the postive response she has gained in America since the release of her last album 'Body Talk Pt 1' earlier this year.
"I don't know what's different but they just get it and I don't really have to explain everything," she said. "They just accept what it is."
Robyn releases the second instalment of her three-part album series, 'Body Talk Pt 2', on Monday (September 13).
(by Jason Gregory)