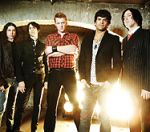 Queens Of The Stone Age
acknowledged the "beautiful" crowd as they played this year's Reading Festival tonight (August 27).
The US band performed ahead of headline act Guns N' Roses on the main stage.
Despite attracting a notably smaller audience than their 2007 Reading headline set, singer Josh Homme paid tribute to the festiva on several occasions.
"It's so beautiful tonight. Look around you, it's so beautiful tonight. I love this festival so god damn much," he said.
"Could it be better? Is it f*cking perfect? You all look beautiful, and I'm not just saying that because I'm high and drunk as ****."
Queens Of The Stone Age's set kicked off with 'Feel Good Hit Of The Summer', and included the songs 'No One Knows' and 'Burn The Witch'.
They also played 'No One Knows' and '3's And 7's' during their 60 minute performance.
Homme again paid tribute to the festival towards the end of their set, telling the crowd: "Reading, I can't tell you what a joy it is to play here."
(by Jason Gregory)