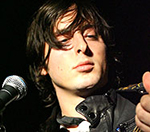 Carl Barat
has told fans that he "would love" to record another album with his newly reunited band,
The Libertines
.
During an exclusive solo performance at denim store Levi's on London's Regent Street, the co-front man of the band stopped mid set to talk to fans and answer questions.
When one fan asked if the band were to make another album, Barat hinted that they might stay together following their reunion show at The Forum (London) on Wednesday night saying "I reckon so. Of course, we've got that vessel, The Libertines, and of course we want to do other things, but it's a funny old business. Yeah, but ideally I'd love that. We'll just see how it goes."
The Libertines are set to play Reading Festival tomorrow (August 28).
(by Rahsian Parris)