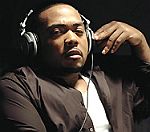 Timbaland
has denied reports that he went missing and attempted to take his own life.
On Wednesday, TMZ reported that the producer's family had contacted police after he was left upset when his $2million watch was stolen.
The celebrity website claimed that police had put out an alert for a "possible suicide attempt".
But Timbaland told US radio show host and TV presenter Ryan Seacrest that he had simply gone for a drive in his car.
"I don't know what happened, to be honest with you, I don't even know what people are talking about," he said.
"I wasn't talking, so I guess people got worried."
Timbaland, who has worked with the likes of Katy Perry and Missy Elliot, is understood to have reported the theft at the weekend.
(by Jason Gregory)