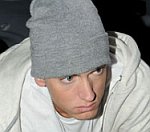 Eminem
has cast doubt over how long he intends to remain in hip-hop.
In an interview with Vibe magazine, the 37-year-old rapper said he didn't know "how much longer I have in this game".
"I'm always going to love hip-hop," Eminem said. "But how much longer am I going to still do it? I couldn't give you an answer.
"But the day that this is not better than the last will probably be the day I stop."
Eminem has sold more than 80 million albums worldwide, and topped the UK and US album charts with recent album 'Recovery'.
But the rapper said it would ultimately be down to his fans to decide how long he kept rapping.
"The fans might say the sh*t is garbage. You don't how long people are going to want you around ... Realistically, if I don't rap, what the f*ck am I going to do?" he said.
"It's too late to just be unfamous right now at this point."
The rapper recently released the single 'Love The Way You Lie', which features Rihanna.
(by Jason Gregory)