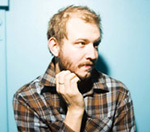 Bon Iver
, aka Justin Vernon, has revealed that the rumours about him working with
Kanye West
are true and that the pair have recorded almost an albums worth of material together.
Though there is no guarantee any of the material the duo recorded together will make it onto West's forthcoming album it is believed one song, 'Lost In The World' could well be West's next single.
Speaking to Pitchfork about the song, Vernon said: "We were just eating breakfast and listening to it and Kanye's like, 'F*ck, this is going to be the festival closer.' I was like, 'Yeah, cool.' It kind of freaked me out."
Whilst recording in Hawaii Vernon also worked with Rick Ross, John Legend and Nicki Minaj. "I was literally in the back room rolling a spliff with Rick Ross talking about what to do on the next part of a song. It was astonishing." he said.
Vernon went on to describe the material he recorded with West as, "Forward moving, interesting, light-hearted, heavy-hearted, f*cking incredible sounding jams."
(by David Renshaw)