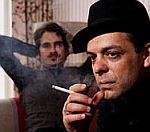 Carlos D reportedly quit his role in
Interpol
because he no longer enjoyed playing the bass guitar.
Speaking to Canadian local paper the Toronto Eye Weekly, Interpol drummer Sam Fogarino said: "Carlos really doesn't like playing the bass guitar. How integral is the bass to Interpol? I mean, it's huge. It's a total harmonic component. It's hook-laden. But he really, really didn't like the bass. It's not his instrument of choice, and it definitely wasn't his first instrument."
The band have replaced Carlos D with both Dave Pajo and Secret Machines member Brandon Curtis.
Speaking in July, Fogarino claimed that Interpol would not necessarily miss working withy Dengler on a musical level saying,
"Any four of us can get behind a keyboard and -- not to dismiss his talent -- come up with an interesting harmony or melody. I don't think we're afraid to work on music without him."
Interpol's new, slef-titled album is due out in Septmeber.
(by David Renshaw)