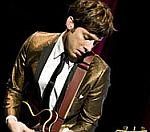 Mark Ronson
and The Business Intl. will headline this year's Freeze Festival in London.
The event – formerly the London Freeze – will take place from October 29-31 at Battersea Power Station.
"'I remember standing in Battersea Power Station once and thinking that this would be the coolest place to play a gig," Ronson said.
"And now we're actually getting to put one on as part of the Freeze festival. It's going to be ill."
Other acts on the line-up so far include New Young Pony Club and I Blame Coco.
Freeze Festival will also see the world's best skiers and snowboarders competing on the specially erected snow ramps.
Tickets are on sale now.
(by Jason Gregory)