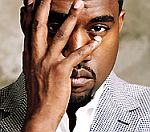 Kanye West
has unveiled the much-anticipated video for his new single 'Power'.
The video features one continuous shot of West with a chain around his neck, and has been described by the rapper as moving painting.
Artist and director Marco Brambilla said the video had a "very dark, personal conflict within it".
"Because of his own concept of celebrity and his own notoriety, he's keenly self-aware of all these things," he told the New York Times.
"And it all came out in the music."
'Power' is the first track to be taken from West's as-yet-untitled new album, which is the follow-up to 2008's '808s And Heartbreak'.
Kanye West - 'Power':
(by Jason Gregory)