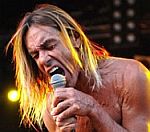 Iggy Pop
has said he is confident that
The Stooges
can record new material following the death of guitarist Ron Asheton.
Asheton, one of the band's founding members, died in January last year at the age of 60.
He has been replaced by guitarist James Williamson, who joined the group in 1971 and most famously featured on their 1973 album 'Raw Power'.
Pop said the group were working on material written before Asheton's death and that Williamson was keen to get involved.
Pop told Billboard the returning guitarist "is already on me like a greased cat.
"He's sending me riffs, so I did some vocals to a couple of them and it's starting to sound like something".
The singer also revealed that the band were hoping to re-record some heavily bootlegged Stooges songs dating back to the 1970s.
"Ultimately I'd like to get into the studio with the group and maybe have a couple old songs, a couple new songs and then a little time to just jam and see what happens," Pop said.
The Stooges will return to the road this year and are due to play 'Raw Power' in full at two London gigs in May.
(by Jason Gregory)