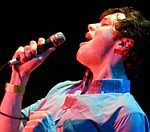 Friendly Fires
frontman Ed Macfarlane says the band's second album is sounding "really good".
The group are currently hard at work on the follow-up to self-titled 2008 debut in a bid for a summer release.
In an interview with BBC 6 Music, Macfarlane said their new material had benefited from having more experience in the studio.
"Production wise, I really know what I'm doing now whereas before on the first record, it was kind of like a learning process for us and we weren't using pop shields – this microphone I'm speaking into now was probably better than the microphone we actually used to record our album - but this time around, we've done it properly in that sense, so it sounds fantastic," he said.
The singer said plans were in place to release the record "as soon as possible".
But he added that fans shouldn't expect to hear the new material at many festivals this summer.
"I think we are going to take it quite easy on the festivals this year while we're doing the album," he said.
"We don't want to annoy people by appearing on every single line-up possible. We're going to wait until next year, when the album's out to really do all the festivals we can."
Friendly Fires are currently scheduled to headline this summer's Camp Bestival festival in Dorset.
(by Jason Gregory)