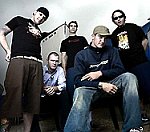 New Found Glory
,
The King Blues
and Capdown are amongst the first batch of names confirmed for Slam Dunk Festival 2010.
Also in the mix are Four Year Strong, Set Your Goals, RX Bandits, Out Of Sight and Every Avenue.
For the very first time, Slam Dunk Festival will be held in Hertfordshire as well as its spiritual home of Leeds over the May Bank Holiday.
Festival Promoter Ben Ray says "I am extremely pleased that the success of previous years has allowed me to launch Slam Dunk South which allows even more people to get the chance to see so many quality bands.
"I think people enjoy the fact that it isn't just one or two big stages and instead people can move freely between seven stages, all with music they like, and see everyone from large international bands to great new UK talent. I really think I owe a lot to the small upcoming UK bands!"
The southern leg will take place at the University of Hertfordshire on May 29th, while the northern is at Leeds University the following day. Both days have a capacity of 5,000.
Launched in 2001 at The Cockpit in Leeds, Slam Dunk Festival has seen performances from the likes of Paramore, You Me At Six, Thursday, Fall Out Boy and The Academy Is.
(by Scott Colothan)