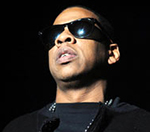 Jay-Z
has heaped praise on
Lady Gaga
and
Cheryl Cole
ahead of The Brit Awards ceremony tonight.
The Jigga Man will perform a medley of 'Forever Young' and 'Empire State Of Mind' with Mr Hudson and Alicia Keys at the Earls Court ceremony and has nothing but kind words for his fellow performers.
Praising The Brits, he enthused: "Sure, the Grammys are a big deal but so are the Brits. Britain is a massive country for music and I don't want to compare the Grammys to the Brits because for me they are as important as each other."
He continued to The Sun: "It's a great line-up this year. Lady Gaga is one of the hottest stars on the planet. Cheryl Cole is one of the hottest stars in Britain and within the next six months I expect her to go global.
"I have wanted to talk with her fir a while and the Brits will be a good time to have that talk."
Lady Gaga is expected to perform a stripped down version of 'Telephone' tonight, while Cole will sing her number one single 'Fight For This Love'.
(by Scott Colothan)