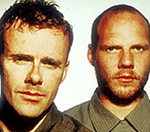 Leftfield
's Paul Daley has opted out of taking part in the dance act's live comeback this summer.
It was announced earlier this month that Leftfield would play their first live show in nearly a decade at the Rockness festival in June.
A host of other summer headline festival dates are also expected to be announced in the coming weeks.
But in a statement, Daley said he would not be joining band mate Neil Barnes because he wanted to focus on his other projects.
"I'm about to embark on a solo career with the release of my first solo album. I also want to continue concentrating on my DJ'ing work, so I've decided I won't be joining Neil on stage for the Leftfield dates this year," he said.
Barnes, who formed the group alongside Daley in 1990, said he was looking forward to returning to the road.
"The opportunity to take the band out again once more with the sound system and some of the original singers and perform the songs again to a whole new audience is an opportunity that I simply couldn't turn down," he said.
"The good will surrounding the live show has overwhelmed me. The expectation is tremendous I simply can't wait to blow everybody away. Literally."
The Rockness festival runs from June 11-13 on the banks of Loch Ness, Scotland.
(by Jason Gregory)