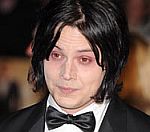 The White Stripes
have accused the US Air Force Reserve of re-recording and using one of their songs in an advert without permission.
The song, 'Fell In Love With The Girl', appeared on the Reserve's recruitment drive during the Super Bowl on Sunday.
In a statement on their website, The White Stripes said they supported the US military but planned to take "strong action" to stop the song being used.
"We believe our song was re-recorded and used without permission of the White Stripes, our publishers, label or management," they said.
"The White Stripes take strong insult and objection to the Air Force Reserve's presenting this advert with the implication that we licensed one of our songs to encourage recruitment during a war that we do not support."
The duo, which consists of Jack and Meg White, added: "The White Stripes support this nation's military, at home and during times when our country needs and depends on them.
"We simply don't want to be a cog in the wheel of the current conflict, and hope for a safe and speedy return home for our troops."
Singer Jack White has previously criticised a drinks brand for using one of his songs in an advert.
The track, 'Another Way To Die' – which was recorded for the James Bond film Quantum of Solace – was licensed to the company without his knowledge.
(by Scott Colothan)