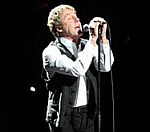 The Who
's Roger Daltrey has revealed that he struggled to see during the band's performance at the Super Bowl on Sunday.
The group wowed fans with a five-song medley of their classic hits at the Sun Life Stadium in Miami.
But speaking after the performance, Daltrey had mixed feelings about the set and admitted that it was riddled with obstacles.
"I thought it went OK. I understand. It's a TV show. Cameras were everywhere," he said.
"I was so blinded that I couldn't see."
The singer, who was initially reluctant to talk to the media, also said that he wanted the crowd to get more involved.
He told ESPN: "I really wished the crowd would have gotten into singing the songs with us more. That's how it is in Europe for our soccer matches. I wanted more banter."
His bandmate, guitarist Pete Towshend, added: "We had as much fun as we could have."
Despite going down well with fans, The Who's performance received a mixed reaction in the US media, with one critic saying Townshend "looked and sounded desperate".
The Super Bowl is regularly the most-watched programme on US television and in recent years the half-time show has featured The Rolling Stones and Prince.
It also typically provides a huge sales boost for the headline act.
Last night's Super Bowl was won by the New Orleans Saints who claimed an unlikely 31-17 victory over the Indianapolis Colts.
(by Jason Gregory)