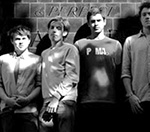 Bombay Bicycle Club
have announced plans to release an acoustic album.
Guitarist Jamie MacColl said the record would plug to gap between their 2009 debut 'I Had the Blues But I Shook Them Loose' and their second studio LP.
"We just finished recording an acoustic album, which is hopefully going to come out in May or June, and we're working on the proper second album as well, writing and talking to producers," MacColl told the Daily Record.
"The first album was a collection of songs written over four or five years, some when we were 15 or 16, so this album is more mature-sounding."
The guitarist added that, unlike other bands, Bombay Bicycle Club hoped to avoid lyrical "cliches" with their second album.
"There's always that danger for bands with a second album that all they've got to write about is being in a band and being on the road, so we've tried to avoid those cliches," he added.
(by Jason Gregory)