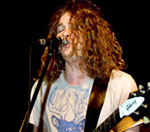 Jay Reatard
died from a lethal mixture of cocaine and alcohol, his autopsy has shown.
A statement from the Shelby County medical examiner said results showed his death was due to "cocaine toxicity, and alcohol was a contributing factor in his death".
Reatard - real name was Jimmy Lee Lindsey Jr - was found dead in his Memphis home in the early hours of the morning on January 13. He was 29.
Although still only in his twenties, the singer enjoyed a prolific recording career and most recently released the album, 'Watch Me Fall'.
In a statement last month, his record label Matador said: "Jay was as full of life as anyone we've ever met, and responsible for so many memorable moments as a person and artist.
"We're honoured to have known and worked with him, and we will miss him terribly."
(by Jason Gregory)