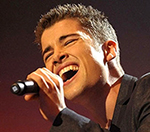 Joe McElderry
's 'The Climb' is just 8,923 copies behind
Rage Against The Machine
's 'Killing In The Name', closing the gap in the
Christmas chart race
.
The X Factor winner's track has now shifted 297,192 copies compared to Rage Against The Machine's 306,115.
Yesterday 'The Climb' was over 36,000 units behind Rage.
The significant gain is largely thanks to two days of sales for the physical format of McElderry's Miley Cyrus cover.
Meanwhile, Cheryl Cole has today branded the Rage Against The Machine for Christmas Number 1 campaign "mean".
She complained: "He put his heart and soul into every single week of The X Factor and I cannot bear to see him lose out to a mean campaign that has nothing to do with his efforts.
"If that song, or should I say campaign, by an American group is our Christmas number one I'll be gutted for him and our charts."
Tomorrow is likely to be make or break for Rage Against The Machine with Christmas shoppers hitting the streets.
(by Scott Colothan)