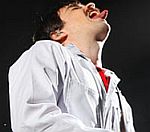 Rivers Cuomo has admitted that
Weezer
's breakthrough 1991 track 'Undone – The Sweater Song' is a complete rip-off of
Metallica
's 'Welcome Home (Sanitarium)'.
Speaking to Rolling Stone on the 15th anniversary of the single, Cuomo said initially they tried to write a song heavily inspired by The Velvet Underground but years later he realised it sounded exactly like Metallica's 1986 hit.
Cuomo explains: "I was trying to write a Velvet Underground-type song because I was super into them, and I came up with that guitar riff. I just picked up that acoustic guitar and the first thing I played was that riff."
"And it just feels so classic to me, even now when the band starts to play it, it just takes over the energy in the room and you're just transported into the world of Weezer."
He continued: "It wasn't until years after I wrote it that I realized it's almost a complete rip-off of 'Sanitarium' by Metallica.
"It just perfectly encapsulates Weezer to me — you're trying to be cool like Velvet Underground but your metal roots just pump through unconsciously."
Weezer release their new album 'Raditude' on October 27.
(by Scott Colothan)