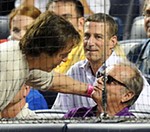 Paul McCartney
was spotted at a baseball game in New York last night with legendary actor Jack Nicholson.
The Beatle attended the New York Yankees match against Texas Rangers at the Yankee stadium with his girlfriend Nancy Shevall, TV producer friend Lorne Michaels and Nicholson.
In a recent interview with The Boston Herald, McCartney said he has recently become a huge fan of baseball but he didn't have a great childhood experience with the sport.
He said: "Baseball to us Brits is a game called rounders we played as kids.
"Actually, I accidentally broke a girl's nose when I was a kid with my back swing. I still remember her name. Shirley Prytherch. P-r-y-t-h-e-r, um, c-h, I think. I don't know, but it sounds Welsh to me.
"It's something like this that accounts for all the armour you guys wear now playing baseball. She didn't have any and look what happened to her."
(by Scott Colothan)